Product Description
ISO ASME/ANSI DIN JIS Standard a B Series Simplex Duplex Triplex Multiplex Strand Short Pitch Precision Roller Chain and Bush Chain
ransmission chain  (Driving Chain)
Short Pitch Precision Roller Chain (A Series)(1,2,3)
04C-1  06C-1-2-3  085-1-2-3  08A-1-2-3  10A-1-2-3  12A-1-2-3  16A-1-2-3  20A-1-2-3  24A-1-2-3  28A-1-2-3  32A-1-2-3  40A-1-2-3  48A-1-2-3
25 35 35-2 35-3 -2 40-3 50 50-2-50-3 60 60-2 60-3 80 80-2 80-3 100 100-2  100-3 120 120-2 120-3 140 140-2 160 160-2 -2  240
Short Pitch Precision Roller Chain (B Series)(1,2,3)
06B-1-2-3 06B-1-2-3 08B-1-2-3  10B-1-2-3  12B-1-2-3  16B-1-2-3 20B-1-2-3 24B-1-2-3  28B-1-2-3  32B-1-2-3  40B-1-2-3  48B-1-2-3  56B-1-2-3   64B-1-2-3  72B-1-2-3
Heavy Duty Series Roller Chain(1,2)
08AH-1  10AH-1  12AH-1-2-3  16AH-1-2-3  20AH-1-2-3  24AH-1-2-3  28AH-1-2-3  32AH-1-2-3  40AH-1-2-3
Side Bow Chain
40SB 43SB  50SB  60SB  63SB 80SB 08BSB 08BSBY1  10BSB  12BSB  C2050SB
Motorcycle Chain
410  415  415H  420  420H  428  428H  520  520H  525  525H  530  530H  630  630H
Engine Mechanism Chain    (Timing Chain)
CL04
Self-Lubrication Roller Chain
08BSLR  10BSLR 12BSLR 16BSLR 40SLR 50SLR 60SLR 80SLR
Double Pitch Transmission Chain
208A  208B 210A  210B  212A  212B  216A  216B  220A  220B
2040  2050  2060 2080  2100
Bush Chain
P15F-B  P20-B  P25-B  P25F1-B P30F2-B  P36-B  P40-B  P45-B  P50-B P55-B P60-B  P70-B  P80-B
Conveyor Chain
Roller Chain With Straight Side Plates (A Series)
C08A-1-2-3  C10A-1-2-3  C12-1-2-3  C24A-1-2-3  C32A-1-2-3
C35  C40-1-2-3  C50-1-2-3  C80-1-2-3  C100-1-2-3  C120-1-2-3  C140-1-2-3  C160-1-2-3
Roller Chain With Straight Side Plates (B Series)
C08B-1-2-3  C10B-1-2-3  C12B-1-2-3  C16-1-2-3  C20B-1-2-3  C24B-1-2-3  C28B-1-2-3  C32B-1-2-3
Double Pitch Conveyor Chain
C208A  C208AH  C208B C208BL  C210A  C210AL  C212A   C212AH   C212AHL  C216A  C216AL  C216AH  C216AHL  C220A  C220AL  C220AH  C220AHL  C224A  C224AL  C224AH  C224AHL  C232A  C232AL  C232AH  C232AHL
C2050  C2052  C2060  C2062  C2060H  C2080  C2080H  C2082  C2082H C2100  C2100H  C2102  C2102H  C2120  C2120H  C2122  C2122H  C2160  C2160H  C2162  C2162H
Double Pius Speed Chain
BS25-C206B  BS25-C208A  BS25-C210A  BS25-C212A  BS30-C206B  BS30-C208B  BS30-C210B  BS30-C212B
Conveyor Chain (M Series)
M20  M28  M40  M56  M80
Hollow Pin Conveyor Chain (MC Series)
MC28  MC56  MC112  MC224
Conveyor Chain (FV Series)
FV40  FV63  FV90  FV112  FV140
Conveyor Chain (FVT Series)
FVT40  FVT63  FVT90  FVT112  FVT140  FVT180  FVT250  FVT315
Hollow Pin Conveyor Chain (FVC Series)
FVC63  FVC90  FVC112  FVC140  FVC180  FVC250  FVC315
Conveyor Chain (Z Series)
Z40  Z100  Z160  Z300
Conveyor Chain (ZE Series)
ZE40  ZE100  ZE160  ZE300
Hollow Pin Conveyor Chain (ZC Series)
ZC21  ZC40  ZC60  ZC150  ZC300
Hollow Pin Chains
08BHPF  08BHPF5 08BHP9 10BHPF3 10BHPF4 12BHPF2 12BHPF3 16BHPF3  16BHPF4  40HP 08BHPF7  08BHP  50HP  50HPF4  50H-HP  60HP  60HPF1  80HP  80HPF1  80HPF2  80H-HP  80HPF3  80HPF4  HB41.75F5  A2080HP
Welded type cranked link chains
WR78  WH78  WR82  WH82  WR106  WH106  WR110  WH110  WR111  WH111  WR124  WH124  WR132  WH132  WR150  WH150  WR155  WH155  WR157  WH157  WR78F5  WH78F4  WH124F1  WH111F1
Palm oil Chains
P101.6F2  P152F14  P152F17  P152F29  90R-S  P101.6F64  P76.7  P152F31
Sugar mill chains
DH9063  DH2198  P152F93K2  P152F78K2  DH 571 0  DH1796  P152F77-AS2  P203.2F9
Rubber gloves carrier chains
P100F155  P100F13   P100F139  P150/90
Lumber conveyor chains
81X  81XH  81XHE  81XHH  81XHS  500R  441.100R
Sharp top chains
08AF34  08BF21  10AF8  41F6  06BF1  06BF37  08AF41  08BF44  08AF8…
Stainless Steel Chain
Stainless Steel Short Pitch Precision Roller Chain(A Series)
25SS-1  35SS-1  41SS-1  40SS-1  50SS-1  60SS-1  80SS-1  100SS-1  120SS-1
Stainless Steel Short Pitch Precision Roller Chain(B Series)
05BSS-1  06BSS-1  08BSS-1  10BSS-1  12BSS-1  16BSS-1  20BSS-1  24BSS-1
Stainless Steel Roller Chain With Straight Side Plates
C40SS-1  C50SS-1  C60SS-1  C80SS-1  C100SS-1  C120SS-1  C08BSS-1  C10BSS-1  C12BSS-1  C16BSS-1  C20BSS-1  C24BSS-1
Stainless Steel Double Pitch Transmission Chain
2040SS  2050SS  2060SS  2080SS  2100SS  2120SS  208BSS  210BSS  212BSS  216BSS  220BSS  224BSS
Stainless Steel Double Pitch Conveyor Chain
C2040SS  C2040HSS  C208BSS  C2050SS  C2060SS  C2060HSS  C2080SS  C2080HSS  C2100SS  C2100HSS C2120SS  C2120HSS
Stainless Steel Hollow Pin Chain
08BHFSS  40HPSS  50HPSS  60HPSS  12BHPSS  80HPSS  C2040HPSS  C2050HPSS  C2060HPSS  C2080HPSS  HB50.8SS
Stainless Steel Double Pitch Hollow Pin Chain
C2042HPSS  C2052HPSS  C2062HPSS  C2082HPSS  C2042H-HPSS  C2052H-HPSS  C2062H-HPSS  C2082H-HPSS
Lifting Chain
Car Parking Chain
12AT-1 16AT-1-2  20AT-1-2-3  24AT-1-2
Leaf Chain
LH0822  LH0823  LH571  LH0844  LH0846  LH 571   LH1571   LH1571   LH1034   LH1044   LH1046   LH1066   LH1088   LH1222   LH1223  LH1234  LH1244  LH1246  LH1266  LH1288
BL422  BL423  BL434  BL444  BL446  BL466  BL488  BL522  BL523  BL534  BL544  BL546  BL566  BL588  BL622  BL623  BL634  BL644  BL646  BL666  BL688
Multile Plate Bearing Pin Chain
LF30  MP50F2   MP50.8   MP70F1   MP70F2   MP70F3   MP80F1   MP90F1   MP90F2   MP110F1
Rollerless Lift Chain
45-1  55-1  65-1  85-1  105-1  125-1  145-1  165-1
Agricultural Chain
S Type Steel Agricultural Chain & Attachments
S32  S42  S45  S52  S55  S62  S77  S88  A550  A620
C Type Steel Agricultural Chain with Attachments
CA550  CA550/S55  CA555  CA550HD  CA550V  CA557  CA620  CA2801  38.1R  38.4R  38.4V  38.4VB
Rice Harvester Chain
S3558T-48001  S3558T-48002
Drop Forged Chain Series
Drop Forged Rivetless Chain
Imperial: 80H  X348   X458  468H  X658  X678  678  698  998  9118  S348  S458  S678  S698  S9118, Metric system: XT100  XT160
Cast Detachable Chain
55  57  62  74  78
Steel Detachable Chain
25  32  32W  51  52  55  62
Cast Iron Chain
Cast Iron Chain (C Series)
C55  C55L  C77  C188  C188L  C102B  C111  C131  C132
Cast Iron Chain (H Series)
H60  H78  H82  H110
Cast Iron Chain (4 Series)
462  477  488  4103  720  720S  730
Cast Iron Chain BRH188
BRH188  C188CP  C102B-K2  C55A  C55B  C55D  CC600  H78A  H78B  H130  H138  MC33  103  4103F29  907-E51
Welded chains
WR78  WH78  WR82  WH82   WR124  WH124
Forging Hanging Chain
X228  X348  X458  X678  698
Related products
| | |
| --- | --- |
| Usage: | Transmission Chain, Drag Chain, Conveyor Chain, Dedicated Special Chain |
| Material: | Stainless steel |
| Surface Treatment: | Oil Blooming |
| Feature: | Oil Resistant |
| Chain Size: | 1/2"*3/32" |
| Structure: | Roller Chain |
Samples:

US$ 9999/Piece

1 Piece(Min.Order)

|
Request Sample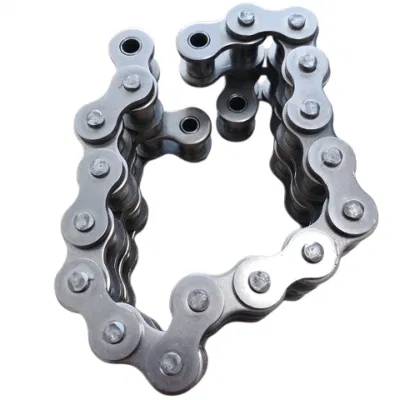 Can a bush chain be used in high-temperature applications?
Yes, bush chains can be designed and manufactured to withstand high-temperature environments. However, the specific temperature range in which a bush chain can operate depends on several factors, including the materials used, lubrication, and the design of the chain.
When considering the use of a bush chain in high-temperature applications, it is important to consider the following:
1. Material selection: Choose materials that can withstand the elevated temperatures without significant degradation. Heat-resistant alloys or specially treated materials with high-temperature resistance are commonly used in bush chain construction.
2. Lubrication: Proper lubrication is critical in high-temperature applications to reduce friction and prevent premature wear. Select lubricants specifically formulated for high-temperature environments. These lubricants should have a higher viscosity index and thermal stability to maintain their effectiveness at elevated temperatures.
3. Design considerations: The design of the bush chain should account for the thermal expansion and contraction that occurs at high temperatures. Adequate clearance should be provided to accommodate the thermal expansion of the chain components.
4. Heat dissipation: Ensure proper heat dissipation from the chain by allowing sufficient airflow or implementing cooling mechanisms in the system. This helps to prevent excessive heat buildup and potential damage to the chain.
5. Temperature limits: Consult the manufacturer's specifications and guidelines to determine the maximum temperature limit for the bush chain. Operating the chain within its temperature limits ensures its reliability and longevity.
It is important to note that the performance and lifespan of a bush chain can be affected by prolonged exposure to high temperatures. Continuous monitoring and regular inspections are recommended to ensure the chain's integrity and identify any signs of wear or damage that may be accelerated by the high-temperature environment.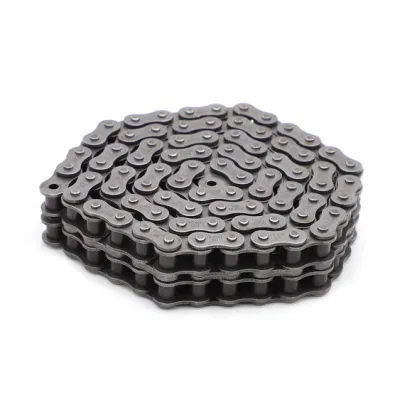 Can a bush chain be used in corrosive or harsh environments?
Yes, a bush chain can be used in corrosive or harsh environments, but it requires careful selection and proper maintenance to ensure optimal performance and longevity. Here are some considerations:
1. Material Selection: When operating in corrosive environments, it is crucial to select a bush chain made from corrosion-resistant materials such as stainless steel or specialty alloys. These materials offer enhanced resistance to corrosion and chemical attack.
2. Coatings and Surface Treatments: Applying coatings or surface treatments to the bush chain can provide additional protection against corrosion. For example, coatings like zinc plating, nickel plating, or chemical treatments can help inhibit rust and corrosion.
3. Sealing and Protection: In harsh environments, it is essential to protect the bush chain from contaminants and corrosive substances. Enclosing the chain in a protective housing or using seals, covers, or boots can help prevent the entry of corrosive agents and debris.
4. Proper Lubrication: Adequate lubrication is crucial for reducing friction and preventing corrosion. Choose lubricants specifically designed for use in corrosive environments, such as those with anti-corrosion additives. Regular lubrication maintenance is necessary to ensure the chain remains well-lubricated and protected.
5. Cleaning and Maintenance: Regular cleaning and maintenance are vital to remove any corrosive substances or contaminants that may have accumulated on the chain. This includes thorough cleaning, inspection, and re-lubrication as necessary.
It is important to consult with chain manufacturers or industry experts to determine the most suitable bush chain and maintenance practices for the specific corrosive or harsh environment. By implementing these measures, a bush chain can effectively operate and withstand the challenges posed by corrosive or harsh conditions.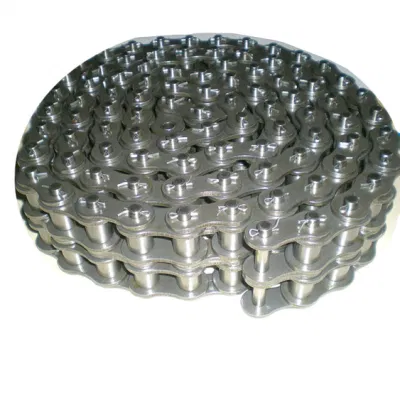 What are the different types of bush chains available?
There are several types of bush chains available, each designed to meet specific application requirements. Here are some common types:
1. Standard Bush Chains: These chains have a simple construction with bushings and rollers. They are commonly used in general industrial applications that require moderate load capacity and speed.
2. Heavy-Duty Bush Chains: These chains are designed for applications that involve high loads, such as heavy machinery or equipment. They have a robust construction with thicker plates and larger diameter bushings to withstand the increased demands.
3. Extended Pitch Bush Chains: These chains have a larger pitch than standard chains, providing more space between each link. They are often used in applications that require conveying large or irregularly shaped objects, such as in material handling or packaging industries.
4. Double-Pitch Bush Chains: These chains have double the pitch of standard chains, allowing for longer spans between sprockets. They are commonly used in applications that require longer conveying distances or lower-speed operation.
5. Stainless Steel Bush Chains: These chains are made from stainless steel material, offering excellent corrosion resistance. They are suitable for applications in corrosive environments or industries with strict hygiene requirements, such as food processing or pharmaceutical manufacturing.
6. Self-Lubricating Bush Chains: These chains incorporate special materials or coatings that provide self-lubrication properties. They eliminate the need for external lubrication and reduce maintenance requirements. Self-lubricating bush chains are ideal for applications where regular lubrication is challenging or impractical.
7. Specialty Bush Chains: There are also specialty bush chains available for specific applications. These may include high-temperature chains, flame-resistant chains, or chains with specialized coatings for specific industries or environments.
When selecting a bush chain, consider the specific requirements of your application, such as load capacity, speed, environmental conditions, and maintenance needs. Consult with a supplier or engineer to determine the most suitable type of bush chain for your application.



editor by CX 2023-09-13